Basis of help in the identification of some SERPULIDAE (Annelids Polychetes) from the operculum (modified filament of the branchial plume).
To access the database hosted on the collaborative biodiversity data management platform, you must first:
- Send an email to the address
This email address is being protected from spambots. You need JavaScript enabled to view it.
to make your access request.
- You will then receive an email from
This email address is being protected from spambots. You need JavaScript enabled to view it.


-
This email gives you the procedure to create your account in order to be able to access the database.
- After your registration and first access, you can access the database by clicking on the image below: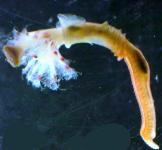 This database was created by
François CHARLES
from the Laboratory of Ecogeochemistry of Benthic Environments and by Christine LE MOUNI ER from the Systematic Knowledge Base Platform developed by the Computer Science and Systematics laboratory of UPMC (Click on the logo):