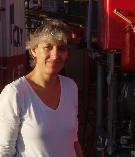 Contact information
Phone : +33 (0)4 30 19 24 14
Mail(s) :
This email address is being protected from spambots. You need JavaScript enabled to view it.
,
This email address is being protected from spambots. You need JavaScript enabled to view it.
Function and attachment
Professor SOrbonne University  (formerly University Pierre and Marie Curie UPMC-Paris 6)
CNRS-UPMC UMR 8222 LECOB, Oceanological Observatory of Banyuls
Expertise
Marine chemistry, ecology and biogeochemistry.
Habitat geochemistry, organism-environment interaction
Redox interfaces, chemosynthetic communities
Extreme environments, deep-sea ecosystems, Hydrothermal vents
In situ chemical sensors, geochemical models
Current position
Professor Sorbonne University (formerly Université Pierre et Marie Curie UPMC-Paris6)
Formations and diplomas
2005 HDR Marine Chemistry and biogeochemistry. University of Brest (UBO)
2006 PhD in Atmospheric Chemistry and Environmental Physics, Univ. of Paris 7
1987 Master in Molecular Physical Chemistry, University of Paris 11
Publications
- 86 articles in peer-review journals
- 10 book chapters
- >100 communications in international conferences
Training of PhD and undergraduate students
- Supervision of 3 post-docs (including 1 ATER)
- Supervision and co-supervision of 6 PhD students
- Supervison of > 40 undergraduate students
Research expeditions
 - Chief scientist of 4 research expeditions on deep-sea vent ecology (PHARE 2002 and MESCAL 2010 and 2012 East-Pacific Rise), TRANSECT 2018 (Mid-Atlantic Ridge) with the ROV VICTOR6000 and the submersible Nautile.
- Chief scientist of 3 submarine canyon expeditions: 2018 with HROV ARIANE (Corsican margin), 2019 (Lacaze-Duthiers canyon multicore sediment sampling with R/V Thétys),
- Coordination of a multiannual research and monitoring programme of the Lacaze-Duthiers submarine canyon, including 13 (11 ROV operations with COMEX and 2 sediment coring with French oceanograhic fleet (Téthys)
- Participation to 23 research expeditions in the field deep-sea biology, ecology and geology,  (French, US and German research vessels and programmes).
Committees and Working Groups
2016 -  DOOS- Deep Ocean Observing Strategy. Scientific committee
2017-2019 Co-chair of the international network InterRidge (mid-ocean ridges, SCOR affiliated)
2010-2014. Scientific advisory board. MARUM, Center for Marine Environment Research, Bremen, Germany
2009-2013 Scientific committee of the FP7 Marie Curie Network SENSENET Chemical sensing in Marine Environment
2009-2013 Chair of the SCOR-InterRidge Working Group Hydrothermal energy transfer and the ocvean carbon cycle
2009-2012 Programme Review Group. Underwater System Laboratory. NOC, Southampton, UK
2009-2013 Coordinator of the European Research Group DiWOOD 'Sunken wood and associated fauna'
2007-2010 Steering committee of the FP7 European project CAREX Investigating Life in Extreme Environments
2007-2010 Scientific committee of the Collaborative Research Project CHEMECO Colonization of Chemosynthetic ecosystems of the ESF EUROCORES EuroDeep.
2005-2009 Scientific committee of the Research Group ECCHIS (Biologie des Ecosystèmes Chimiosynthétiques)
2004-2008 Scientific committee of the Marie Curie-FP6 Res. & Training Network MOMARNET
2004-2009 Chair of the Working Group Biogeochemical Interactions at Deep-Sea Vents of InterRidge
Teaching
2018- Coordination of teaching Unit " Fonds océaniques sous la contrainte du changement global " (Master Sciences de la Mer Sorbonne U.  2)
2014- Coordination of teaching unit "Characterizing dynamics and trends in coastal environments " (Sorbonne U. - ERASMUS+ IMBRSea) (Master 2)
2009-2018 Coordination de l'UE
Deep-sea ecosystems and Extreme Marine Environment
Master speciality Ocenography and Marine Environment (OEM) UPMC-ERASMUS (EMBC-EMBC+)
2018- Coordination de l'Atelier de Recherche Encadrée CURIOUS (Licence 1)
Organisation of conferences and Workshop
2009 Session convener Transfer of hydrothermally-derived chemical energy to the biosphere : solving the paradox of high productivity in extreme environment Goldschmidt Conference, Davos, Switzerland. 22-26/06 2009.
2009 Session convener From molecules to organisms: Chemoautotrophic pathways and mechanisms of energy transfer in extreme marine environments. ASLO Aquatic Science Meeting, 25-30 Jan., Nice, France. Co-convener: S. Sievert (WHOI), M. Yakimov (IAMC-CNR)
2008 Organisation comittee Workshop FP7-CAREX Defining priorities for model ecosystems in extreme environment. 29/11- 2/12/08San Feliu de Guixol (Cataluna, Spain),
2007 Organisation committee wortkshop FP7-CAREX Priorities for environment-specific technological developments and infrastructures. San Feliu de Guixol (Cataluna, Spain), 2/12- 5/12/08
2005, 2006, 2007& 2008 Convener de la session Biogeochemical interactions in chemosynthetic deep-sea ecosystems: methods, tools and strategies EGU General Assembly , Austria. Co-Conveners: C. R. German (WHOI), S. Duperron (UPMC), W. Bach (RCOM)
2007 Organisation coimmittee Theoretical Institute (international school & workshop) d'InterRidge Biogeochemical interactions at deep-sea vents. . Woods Hole, USA, 10-14 Sept.
2005. Organisation committee International Workshop MOMAR Monitoring the mid-Atlantic Ridge, 7-9 april, Lisbonne, Portugal.
Outreach and medias
Participation to press conferences, interviews, outreach publications and public conferences. Scientific support in the realisation of a documentary film.
Career
2010-2018 Head if the Benthic Ecogeochemistry Laboratory (CNRS-UPMC joint research unit)
Professor UPMC-Paris 6. Director of Laboratory "Ecogéochimie des Environnements Benthiques, CNRS-UPMC UMR 8222, Observatoire Océanologique, Station marine de Banyul-sur-Mer
Since oct 2009 Professor Université Pierre et Marie Curie - Paris 6. Responsable de l'Equipe Dynamique des Environnements Profonds au Laboratoire d'Océanologie Biologique, Station marine Banyul-sur-Mer
1999 – 2009 Researcher Ifremer, Département Etude des Ecosystèmes Profonds, Laboratoire Environnement Profond, Centre de Brest
1993-1999 Researcher Ifremer, Laboratoire Instrumentation Océanographique, Centre de Brest
Publications