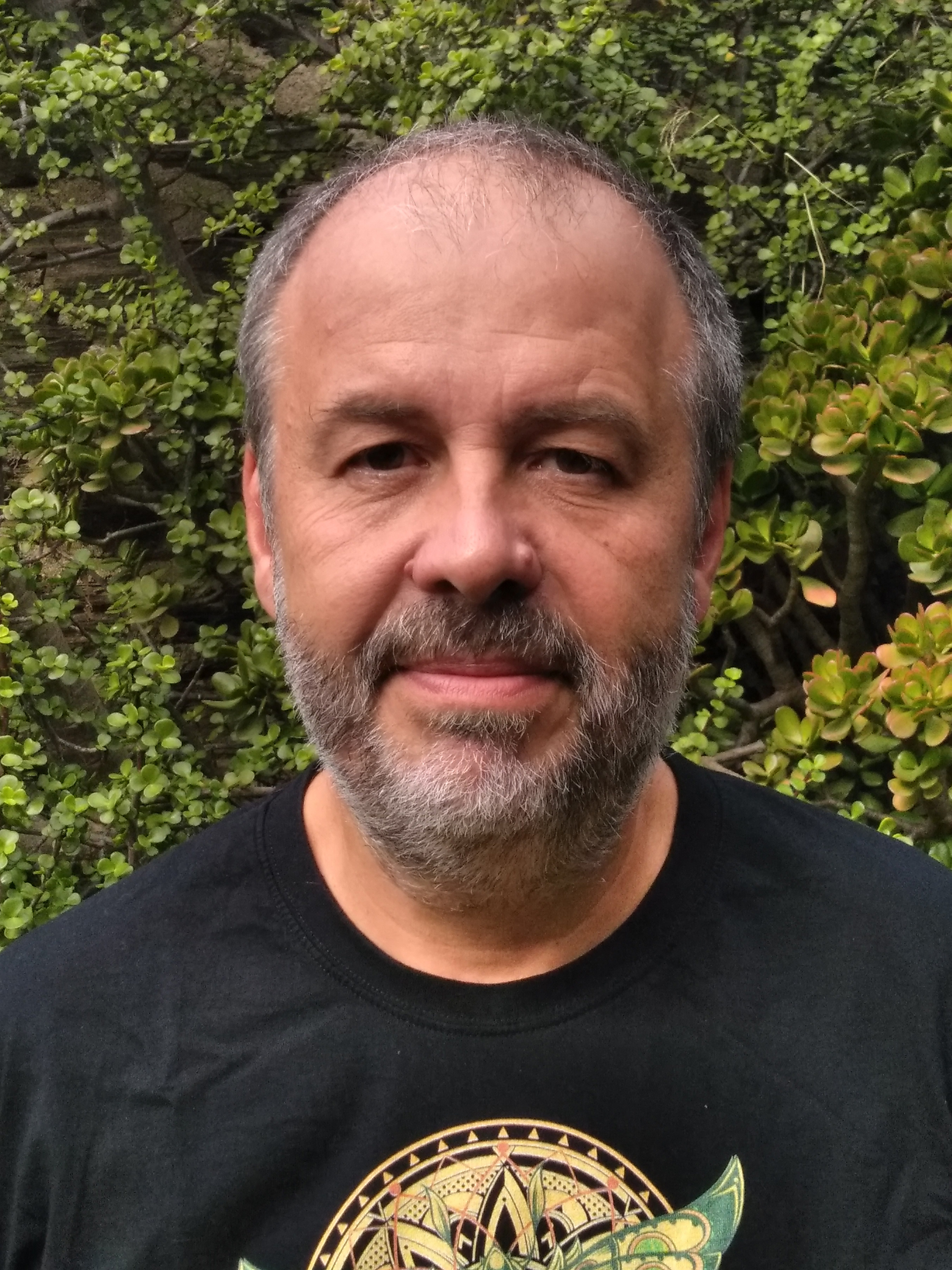 Coordonnées
Téléphone : 04-68-88-73-82
Courriel(s) : Cette adresse e-mail est protégée contre les robots spammeurs. Vous devez activer le JavaScript pour la visualiser.
Fonction et rattachement
Ingénieur d'études Hors Classe CNRS
Webmestre LECOB
Domaine d'expertise
Préparation d'échantillons :
- Lyophylisation
- Évaporation centrifuge sous vide
- Extraction liquide-liquide
- Extraction en phase solide (SPE)
Analyses globales :
- Détermination de la teneur en matière organique
Analyses colorimétriques :
- Lipides totaux
- Acides gras totaux
- Glucides totaux
- Protéines totales et disponibles
Analyses fluorimétriques :
- Pigments (chlorophylles et pigments de dégradation)
- Acides aminés totaux et disponibles
Analyses chromatographiques CG-FID et CG-SM :
- Acides gras totaux
- Classes de lipides
Cultures d'algues
Participation aux programmes scientifiques
- PLAISCOOL : Exportation de déchets PLAstiques : quels Impacts sur l'état de Santé des COraux du gOlfe du Lion ?
- CONGOLOBE : Transfert de matière organique et fonctionnements des écosystèmes dans les lobes terminaux du cône sédimentaire sous-marin du Congo (2011-2014).
- MICADO : Microbial communities associated with the marine degradation of wood
- DynDiagHyd :Dynamique de la dégradation de la matière organique sous hydrodynamiques instationnaires
- Programme national CHACCRA : Climate and Human-induced Alterations in Carbon Cycling at the River-SeA connection ANR VMC 2006.
- ECOPOP : Ecodynamique des polluants organiques persistants dans les systèmes lagunaires et côtiers méditerranéens (2009-2010)
- SESAME (6th PCRD) : Southern European Seas - Assessing and Modelling Ecosystem changes EU.
- MINERHO : Devenir des apports particulaires organiques du Rhône en Méditerranée et lien avec les contaminants.
- CRUMED : Impact des crues éclair en milieu marin, modélisation couplée de la dynamique.
Participation aux enseignements
- Erasmus Mundus, Master of Science in Marine Biodiversity and Conservation, Functioning of coastal Mediterranean Ecosystems.
- Écologie et fonctionnement des écosystèmes côtiers (Coastal ecosystem ecology and functioning) MUMRM12
Encadrement des stages d'entreprise
: collégiens et lycéens.
Forum des métiers : niveau 3ème
- Argelès-sur-mer (66)
- Port-Vendres (66)
Carrière
Date d'entrée au laboratoire :
01-12-1989
Publications
Établissements fréquentés

Laboratoire Central d'Hématologie de l'Hôpital Necker-Enfants Malades (Paris)

Laboratoire d'Ichtyologie du Muséum National d'Histoire Naturelle de Paris

Observatoire Océanologique de Banyuls-sur-mer-Laboratoire Arago
Diplômes
- Diplôme de l'École Pratique des Hautes Etudes (1994) : Examen critique de la mesure du rapport ARN/ADN et de sa correlation avec les taux de croissance chez trois invertébrés benthiques.
- Licence de Sciences Naturelles (1988)
- DUT analyses biologiques et biochimiques (1983)

- Habilitation à la conduite d'autoclaves (2003)
- Certificat de capacité de prélèvements sanguins (1983)